Episodes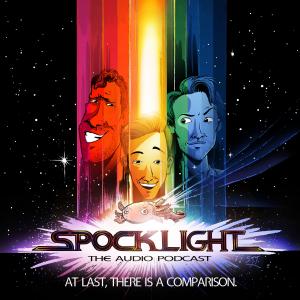 Sunday Apr 25, 2021
Sunday Apr 25, 2021
The Spocklight crew reunite to analyse the 3rd season of 'Star Trek: Discovery'.

Liam bemoans what could have been, discussing the potential that the opening episodes of the season showed and makes a case for Grudge the Cat becoming the next Discovery Captain, Matt points out the continuing failure to flesh out the larger ensemble cast of characters and accuses of them being a bunch of nerds, while Paul waxes lyrical on his love for the new arch villain of the piece, Osyrra and is disappointed to return to the mirror universe.
All this and much more awaits you so download now and Let's Fly!
As usual you can find SPOCKLIGHT on:
TWITTER - @spocklightpod
INSTAGRAM – @spocklightpod
FACEBOOK – https://www.facebook.com/spocklightpod/
EMAIL - spocklightpod@gmail.com
Please Follow, like, share and all that good stuff.
Credit for our wonderful theme music goes to the incredibly talented, Adam Johnston's, you can find more of his work at - https://adamjohnstonuk.bandcamp.com/
Our beautiful artwork was created by Stephen Trumble, see more at http://www.stephentrumble.com 
Huge thanks to Russell Honeywell for post production support