Episodes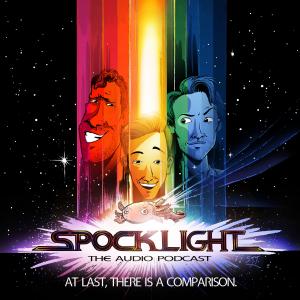 Sunday Aug 22, 2021
Sunday Aug 22, 2021
With Paul waylaid by the possibility of football coming home, Liam and Matt welcome Cam Smith from the Spy Hards and Subspace Transmissions podcasts to discuss one of his favourite episodes of the often overlooked Star Trek series, Enterprise.


Cam tells us the origins of his Star Trek fandom and his own experiences of hosting panels at the Star Trek Las Vegas convention. Then we dissect Cam's episode choice, Twilight, discussing the Archer/T'Pol relationship, the timey whimey concept of the story and the history of alternative timelines in the Star Trek universe
It's been a long road getting from the last time we covered Enterprise on the podcast to here but the time is finally near, and all you have to do is stream or download this episode now!
As usual you can find SPOCKLIGHT on:
TWITTER - @spocklightpod
INSTAGRAM – @spocklightpod
FACEBOOK – https://www.facebook.com/spocklightpod/
EMAIL - spocklightpod@gmail.com
Please Follow, like, share and all that good stuff.
You can find Cam @camvsmith on Twitter and the SpyHards and Subspace Transmissions podcasts wherever you catch your pods.
Credit for our wonderful theme music goes to the incredibly talented, Adam Johnston's, you can find more of his work at - https://adamjohnstonuk.bandcamp.com/
Our beautiful artwork was created by Stephen Trumble, see more at http://www.stephentrumble.com 
Huge thanks to Russell Honeywell for post production support