Episodes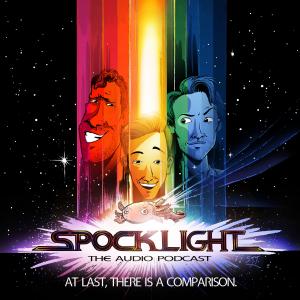 Thursday Oct 28, 2021
Thursday Oct 28, 2021
In a special Halloween episode of Spocklight, Empire Magazine stalwart, Chris Hewitt, returns to the podcast to examine Jeremy Saulnier's 2015 Horror-Thriller, Green Room, starring Patrick Stewart and Anton Yelchin.
We break down the movie asking the big questions - Did Tad deliberately send The Ain't Rights to their doom? Would Darcy and his Neo-Nazi gang really have ever let the band go? Will Pat survive? Can Gabe be trusted? The answers to all these and much more await you as we run down our favourite siege movies and pick our Desert Island Bands.
Tell those Nazi Punks to f*ck off by downloading now!
As usual you can find SPOCKLIGHT on:
TWITTER - @spocklightpod
INSTAGRAM – @spocklightpod
FACEBOOK – https://www.facebook.com/spocklightpod/
EMAIL - spocklightpod@gmail.com
Please Follow, like, share and all that good stuff.
You can find Chris @ChrisHewitt on Twitter and @ctah1976 on Instagram
Credit for our wonderful theme music goes to the incredibly talented, Adam Johnston's, you can find more of his work at - https://adamjohnstonuk.bandcamp.com/
Our beautiful artwork was created by Stephen Trumble, see more at http://www.stephentrumble.com 
Huge thanks to Russell Honeywell for post production support