Episodes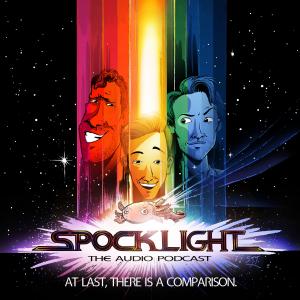 Tuesday Dec 20, 2022
Tuesday Dec 20, 2022
In a very special Christmas edition of the podcast, the Spocklight crew discuss the 1996 TV movie adaptation of Oscar Wilde's The Canterville Ghost starring Sir Patrick Stewart as suggested by one of our listeners (and if any of you Spocklighters out there have suggestions for future episodes we'd love to hear from you!)
We crack open a bottle of the finest port as we trace the history of the Christmas Ghost Story tradition and the various different adaptations of 'The Canterville Ghost' over the decades while chatting the lack of scares, the attempts at broad humour and how a dark mid-point revelation makes Stewart's character rather difficult to root for.
Merry Christmas from everyone at Spocklight!
As usual you can find SPOCKLIGHT on:
TWITTER - @spocklightpod
INSTAGRAM – @spocklightpod
FACEBOOK – https://www.facebook.com/spocklightpod/
EMAIL - spocklightpod@gmail.com
Please Follow, like, share and all that good stuff.
Credit for our wonderful theme music goes to the incredibly talented, Adam Johnston's, you can find more of his work at - https://adamjohnstonuk.bandcamp.com/
Our beautiful artwork was created by Stephen Trumble, see more at http://www.stephentrumble.com 
Huge thanks to Russell Honeywell for sound post production support assistance