Episodes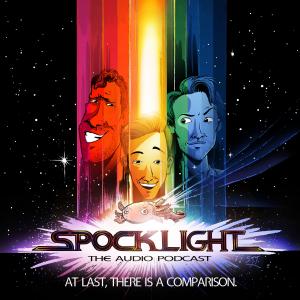 Friday May 21, 2021
Friday May 21, 2021
The Spocklight crew take the turbo lift down to the Lower Decks to examine the entire first season of this new adult animated comedy iteration of Trek. It's Phasers at Dawn as Liam, Matt and Paul discover they have severely differing opinions on the show. Paul connects with Boimler and tells the origins of the Willson effect, Liam reveals his seething hatred of Badgey and Matt's obsession with the Lower Decks theme tune becomes clear. 5, 6, 7, 8...and download now!
As usual you can find SPOCKLIGHT on:
TWITTER - @spocklightpod
INSTAGRAM – @spocklightpod
FACEBOOK – https://www.facebook.com/spocklightpod/
EMAIL - spocklightpod@gmail.com
Please Follow, like, share and all that good stuff.
Credit for our wonderful theme music goes to the incredibly talented, Adam Johnston's, you can find more of his work at - https://adamjohnstonuk.bandcamp.com/
Our beautiful artwork was created by Stephen Trumble, see more at http://www.stephentrumble.com 
Huge thanks to Russell Honeywell for post production support