Episodes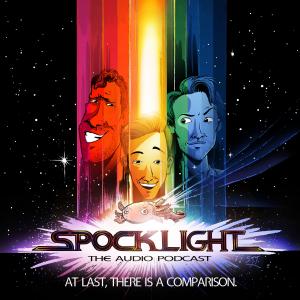 Monday Jul 26, 2021
Monday Jul 26, 2021
Boyd Hilton of Heat, Empire and Pilot TV, returns to the podcast to discuss iconic Star Trek episode, The City on the Edge of Forever, and his love of The Original Series in general whilst calling James Dyer a bellend a lot.

We break down the episode discussing the success of its emotional core, Harlan Ellison's original vision, how the story went on to inspire many other Sci-Fi stories to come as far and wide as Alex Garland's Devs and 90s Nicholas Lyndhurst Sitcom, Goodnight Sweetheart, and Paul gives us the lowdown on the scenes that ended up on the cutting room floor thanks to previous guest, Roger Lay Jr's Roddenberry Vault.
As usual you can find SPOCKLIGHT on:
TWITTER - @spocklightpod
INSTAGRAM – @spocklightpod
FACEBOOK – https://www.facebook.com/spocklightpod/
EMAIL - spocklightpod@gmail.com
Please Follow, like, share and all that good stuff.
You can find Boyd @boydhilton on Twitter and the Pilot TV Podcast on Apple Podcasts or wherever you catch your pods.
Credit for our wonderful theme music goes to the incredibly talented, Adam Johnston's, you can find more of his work at - https://adamjohnstonuk.bandcamp.com/
Our beautiful artwork was created by Stephen Trumble, see more at http://www.stephentrumble.com 
Huge thanks to Russell Honeywell for post production support