Episodes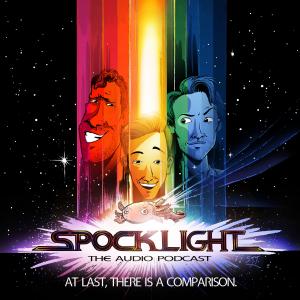 Tuesday Nov 16, 2021
Tuesday Nov 16, 2021
Liam, Matt and Paul reunite round the mic for the first time since March 2020 for this very special Star Trek Draft episode of Spocklight as we each pick our own Starship, Crew and Villain to create a brand new Trek movie/TV Pilot storyline. 
BUT who will emerge victorious?! Dear Listener, it's up to you! Once you've listened to the episode, head straight over to @spocklightpod on Twitter to vote for your favourite pitch!
As usual you can find SPOCKLIGHT on:
TWITTER - @spocklightpod
INSTAGRAM – @spocklightpod
FACEBOOK – https://www.facebook.com/spocklightpod/
EMAIL - spocklightpod@gmail.com
Please Follow, like, share and all that good stuff.
Credit for our wonderful theme music goes to the incredibly talented, Adam Johnston's, you can find more of his work at - https://adamjohnstonuk.bandcamp.com/
Our beautiful artwork was created by Stephen Trumble, see more at http://www.stephentrumble.com 
Huge thanks to Russell Honeywell for post production support