Episodes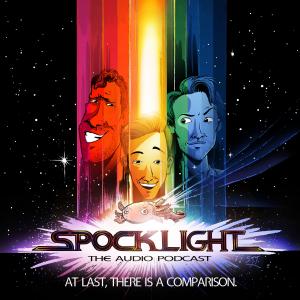 Tuesday May 31, 2022
Tuesday May 31, 2022
We're joined by Agent Scott from the Spy Hards Podcast to declassify Star Trek: Voyager 2-Parter, Year of Hell.
Scott tells us how he was a Star Trek fan from birth and why he's fallen out of love with the franchise in recent years. Then we break down this iconic 2-Parter, as we praise Kurtwood Smith's guest Villain performance and Janeway's constant badassery, while discussing the original plan to make this story a full season arc and what that could have looked like.
As usual you can find SPOCKLIGHT on:
TWITTER - @spocklightpod
INSTAGRAM – @spocklightpod
FACEBOOK – https://www.facebook.com/spocklightpod/
EMAIL - spocklightpod@gmail.com
Please Follow, like, share and all that good stuff.
You can find Scott @TiberiusHardy and Spy Hards @SpyHards on Twitter 
Credit for our wonderful theme music goes to the incredibly talented, Adam Johnston's, you can find more of his work at - https://adamjohnstonuk.bandcamp.com/
Our beautiful artwork was created by Stephen Trumble, see more at http://www.stephentrumble.com 
Huge thanks to Russell Honeywell for post production support