Episodes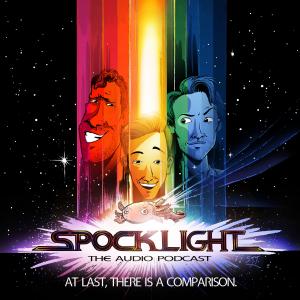 Saturday Oct 01, 2022
Saturday Oct 01, 2022
We're joined by returning guest, TV Writer extraordinaire, Sophie Petzal (Blood, Hollington Drive), to discuss (and in Sophie's case - tear apart) the second season of Star Trek: Picard as we play the game again, analysing everything from Jurati's sudden bout of non-consensual singing to THAT hug. All this, a pre-prepared statement on the season from Empire Magazine and the Pilot TV Podcast's James Dyer and much, much more await you so...ENGAGE!
As usual you can find SPOCKLIGHT on:
TWITTER - @spocklightpod
INSTAGRAM – @spocklightpod
FACEBOOK – https://www.facebook.com/spocklightpod/
EMAIL - spocklightpod@gmail.com
Please Follow, like, share and all that good stuff.
You can find Sophie @Sonic_Screwup on Twitter 
Credit for our wonderful theme music goes to the incredibly talented, Adam Johnston's, you can find more of his work at - https://adamjohnstonuk.bandcamp.com/
Our beautiful artwork was created by Stephen Trumble, see more at http://www.stephentrumble.com 
Huge thanks to Russell Honeywell for post production support