Episodes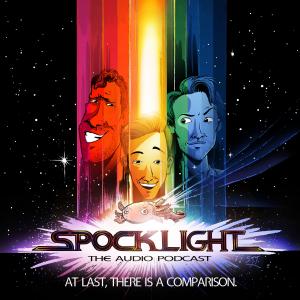 Thursday Oct 13, 2022
Thursday Oct 13, 2022
For the 50th episode of our main mission we return to where it all began for our little podcast - Star Trek: The Motion Picture! This time the Spocklight Crew beam down to The Prince Charles Cinema in London to watch the 4K restoration of Robert Wise's Directors Edition of the film, giving their thoughts before and after the screening. We discuss the relationships between the core trio of Kirk, Spock and McCoy and why they need each other, speculate how different things could have been if this had been the Enterprise's final voyage, look forward to another potential Directors edition of a later Trek film, explore the deleted scenes and unbox Paul's own 5-disc Box Set of the complete Adventure.
As usual you can find SPOCKLIGHT on:
TWITTER - @spocklightpod
INSTAGRAM – @spocklightpod
FACEBOOK – https://www.facebook.com/spocklightpod/
EMAIL - spocklightpod@gmail.com
Please Follow, like, share and all that good stuff.
Credit for our wonderful theme music goes to the incredibly talented, Adam Johnston's, you can find more of his work at - https://adamjohnstonuk.bandcamp.com/
Our beautiful artwork was created by Stephen Trumble, see more at http://www.stephentrumble.com 
Huge thanks to Russell Honeywell for sound post production support assistance