Episodes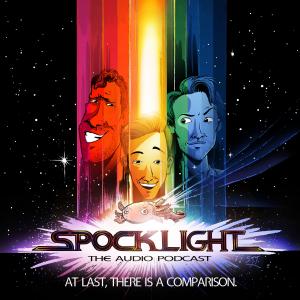 Tuesday Apr 18, 2023
Tuesday Apr 18, 2023
The Spocklight crew celebrate Star Trek's return to episodic television as we examine the first season of Star Trek: Strange New Worlds.
Paul praises the ensemble cast of the show but questions the casting of Paul Wesley as Captain James T. Kirk, Matt is impressed by the reintroduction of a classic Trek alien race, while Liam asks if there could be a better medium between episodic and serialised TV than what this show provided as we analyse the few long running arcs that the season did give us. 
See that play button?! Hit it! 
As usual you can find SPOCKLIGHT on:
TWITTER - @spocklightpod
INSTAGRAM – @spocklightpod
FACEBOOK – https://www.facebook.com/spocklightpod/
EMAIL - spocklightpod@gmail.com
Please Follow, like, share and all that good stuff.
Credit for our wonderful theme music goes to the incredibly talented, Adam Johnston's, you can find more of his work at - https://adamjohnstonuk.bandcamp.com/
Our beautiful artwork was created by Stephen Trumble, see more at http://www.stephentrumble.com 
Huge thanks to Russell Honeywell for sound post production support assistance