Episodes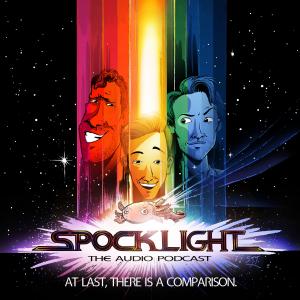 Sunday Jul 26, 2020
Sunday Jul 26, 2020
On our latest 'On Screen' episode we're joined by The Empire Film Podcast host, Chris Hewitt, to discuss William Shatner's 1976 guest appearance on classic Detective drama, Columbo.

Chris gives us an education in all things Columbo as we discuss the shambolic Detective's status as a class warrior and the duality of the character, the history of the show, Shatner's second guest star role in a later 1994 instalment and his sparkling chemistry with Peter Falk, a surprise appearance from Walter Koenig, the original ending of the episode and Leonard Nimoy's earlier guest spot as the only villain evil enough to make Columbo mad!

But before all that, we pay tribute to the dearly departed Joel Schumacher.
As usual you can find SPOCKLIGHT on:
TWITTER - @spocklightpod
INSTAGRAM – @spocklightpod
FACEBOOK – https://www.facebook.com/spocklightpod/
EMAIL - spocklightpod@gmail.com
Please Follow, like, share and all that good stuff.
You can find Chris @ChrisHewitt on Twitter and @ctah1976 on Instagram
Credit for our wonderful theme music goes to the incredibly talented, Adam Johnston's, you can find more of his work at - https://adamjohnstonuk.bandcamp.com/
Our beautiful artwork was created by Stephen Trumble, see more at http://www.stephentrumble.com